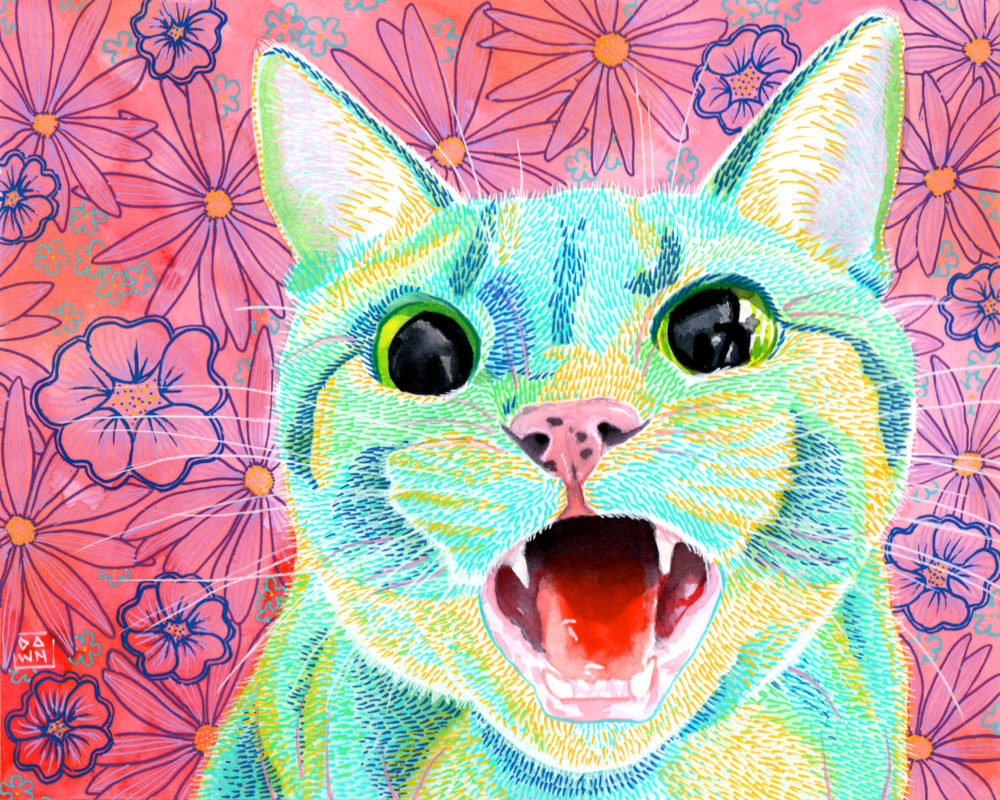 Turn your photo into a joyful work of art.
Want to celebrate your beloved family pet forever? Want to give an unforgettable present to a loved one? Order a pop art pet portrait by Dawn.
I'll paint a museum-quality pop art portrait of a pet, from your photo.
My pop art style features a cropped close-up, simplified shapes, vivid colors, decorative elements, and exciting line work and/or pattern, all while retaining a recognizable likeness of your pet.
Love it or your money back! – Dawn Pedersen
Pricing
8″x10″ Watercolor/Mixed Media on Paper $200
Museum-quality watercolor, acrylic paint, and ink on 100% cotton watercolor paper. Shipped in a protective, clear, resealable bag with cardboard backing, inside a rigid chipboard mailer.
10″x10″ Acrylic on Wood Panel $350
Custom 10″x10″ portrait of your pet in acrylic paint, from your photo. Featuring a tight close-up, vivid colors, decorative elements, and exciting line work and/or pattern, while retaining a recognizable likeness of your person or pet.
How Does This Work?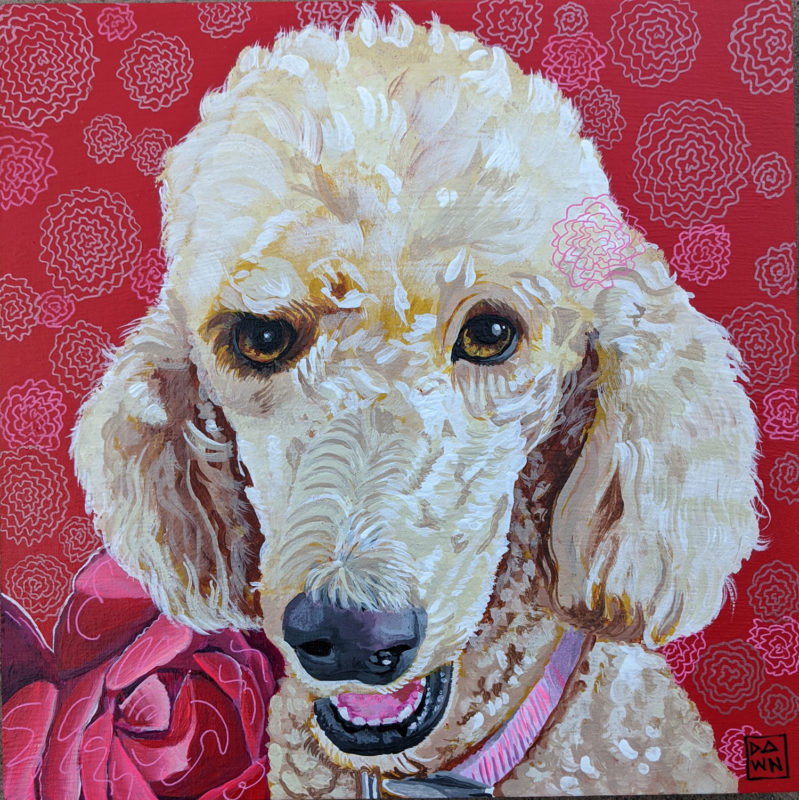 Take a look at the sample images on this page to see if my style is right for you!
Take great photos of your person or pet. For best results, I request closeup photos with:

eyes open
sharp focus
well lit

Order your portrait.

Because I get up close and crop in tight, one person or animal per portrait, please.
For multiple paintings, please submit a separate order for each.
Upload your photo with your order. The upload option appears in the Cart. I may request additional or alternate photos via email, depending on photo quality.
What's Included?
I paint with high-quality inks and paints on archival surfaces.
I can include delightful details such as a toy or decoration you specify in your order.
Framing is not included. Acrylic on panel artworks are ready-to-hang without framing.
Painting and Approval Process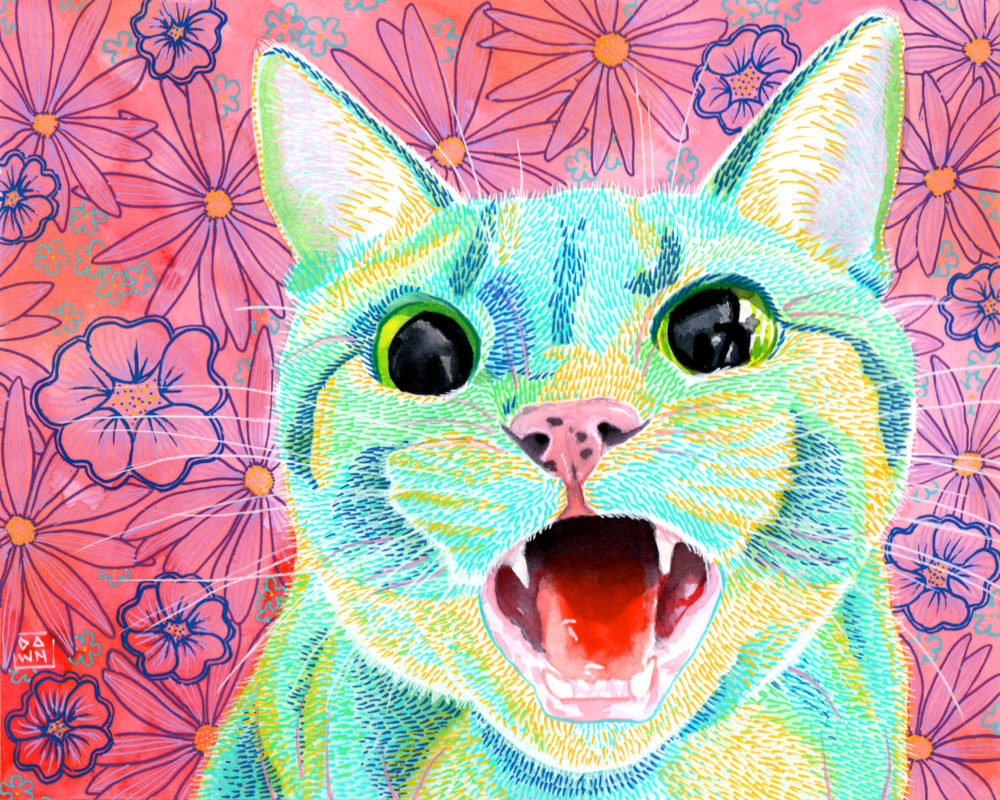 Each painting is an artistic experiment! Your painting will be a unique, museum-quality work of art, 100% hand-painted/created, and signed by Dawn Pedersen.
Each painting requires many hours to complete, over multiple sittings. Each takes 2-3 weeks total to create once payment is received.
I will scan or photograph the painting, and email the image file to you for final approval. Small changes are possible prior to final approval.
Shipping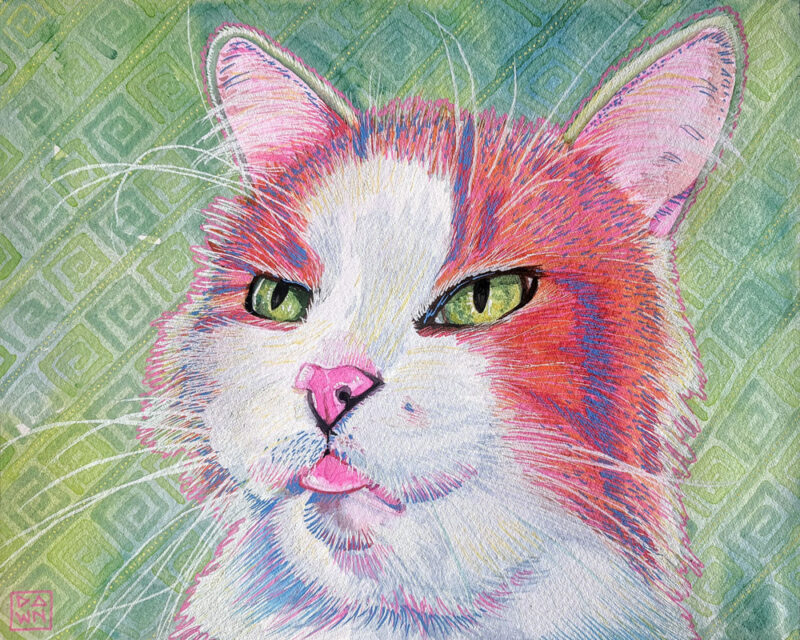 The painting will be shipped to you via USPS First Class or Priority Mail in a protective, clear, resealable bag with cardboard backing, inside a rigid chipboard mailer.

I will then email you the tracking number.

Delivery will take 3-5 business days once the artwork is shipped.
Testimonials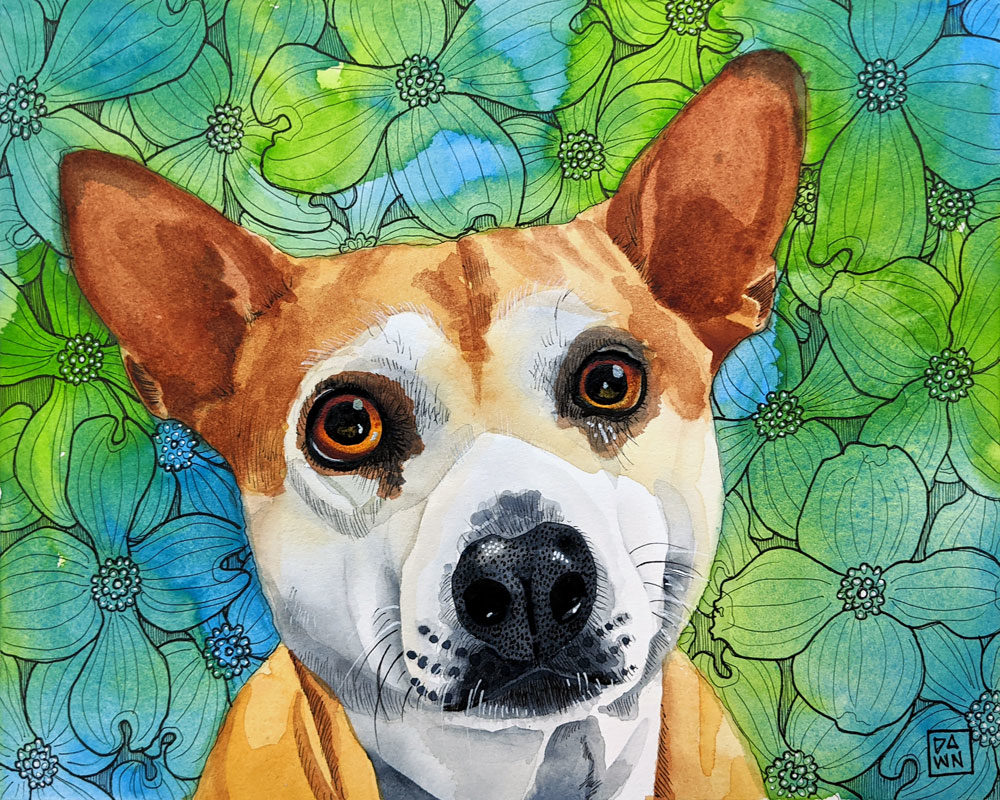 "Dawn did an amazing job capturing my Lani cat's expression in pop art fashion. I could not be happier, I just love my portrait!!!!" – Kara M.
"[Dawn] did a beautiful watercolor of my kitty! She got it done super fast and the quality did not suffer for it. I intend to commission more art from Dawn, she's wonderful." – Malice F.
"Dawn captured the personality of Puss and was eager to please me as her client by encouraging me to pick my favorite photo rather than the one that would be easiest to paint. It turned out perfect!! 😻" – Olivia T.
"Dawn painted my Bella and I absolutely love it. Next up will be my other cat! Beautiful work!" – Kathleen P.
I Paint All Kinds of Creatures!
I'd love to paint your child, dog, bird, rabbit, lizard, rat, or whatever–for you!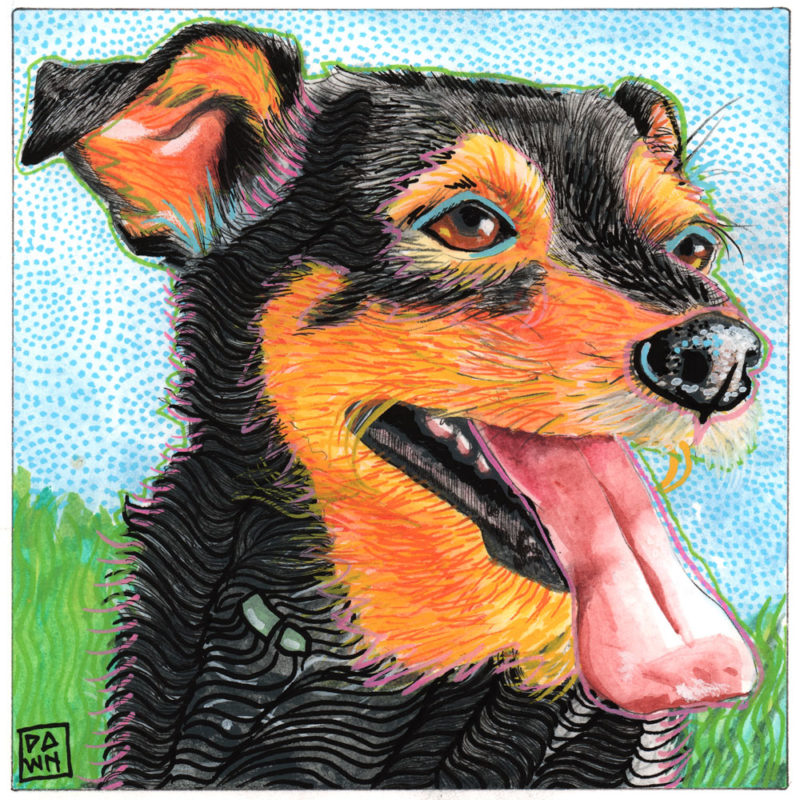 Money-Back Guarantee!
I want you to be 100% thrilled with your pet's portrait. If for any reason you are not happy with the final digital scan I email you, I will keep the painting and refund you the full amount you paid.
Questions?
Please contact me with any questions. I'll get back to you ASAP!